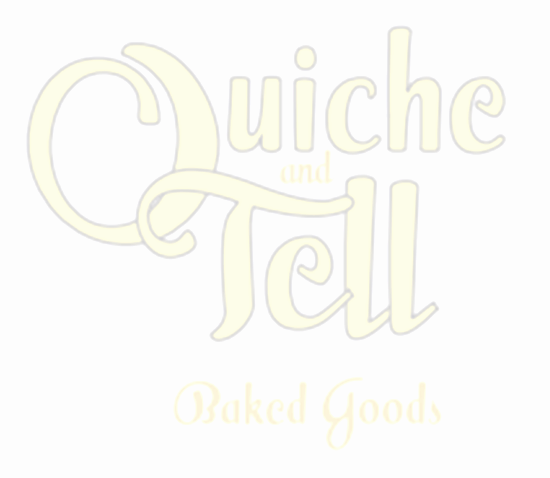 About Us
Quiche & Tell was born in response to Jersey Java and Tea's customers' hunger for homemade all-natural baked goods. The family-owned coffee shop, Jersey Java, embraces the true spirit of a family business, Mary Burke, the owner, has involved her four children in the business since its inception in 2008.
Ken, Victoria, Natalie, and Chris get behind the counter whenever needed, as well as spend after-hours time brainstorming new ideas for the business.
Growing up, Mary visited her Grandma Burke every Sunday. Like clockwork, at every holiday, Grandma Burke would be baking her Lithuanian babkas (sweet raisin breads), setting them on chairs, couches and tables in the living room to "rise", and filling her home with love and that sweet aroma. This nurtured a love of baking in Mary which her children inherited. Quiche & Tell continues this tradition of creating baked goods made with love and all-natural ingredients at Jersey Java. And that's the tasty little family secret we share with our customers every day.
Neighbors and family members were the first to experience the delightful taste and smells of Mary's early morning baking of Quiche & Tell's recipes. She is the wizard behind the variety of muffins, pop tarts, cookies, crumb cakes, and sweet & savory bars. Although, her quiches are truly one of her finest specialties. Growing up, Natalie was the one child who was crazy for her mom's Quiche Lorraine. When it was just the two of them for dinner, Mary and Natalie would have delightful conversations, creating memories and bonding over Quiche Lorraine.
As a family who is passionate about food, all our joys and sorrows are shared around our favorite homemade favorite comfort foods which are now part of Quiche & Tell's menu. Ken would recommend the pop tarts, while Victoria's favorite is the Goat Cheese & Red Pepper quiche. For Chris, it's a seasonal pumpkin muffin.
You'll never tire of Quiche & Tell's menu. Along with our classic Lorraine, Spinach, Broccoli Cheddar, and Goat Cheese & Red Pepper quiches, we are constantly exploring new recipes from a saucy Buffalo Chicken quiche to savory Sweet Potato & Bacon. Whoever said "real men don't eat quiche" has never tried Mary's quiches.